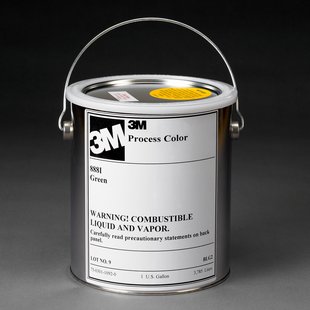 3M™ Screenprinting Ink & Thinner

Durable, colorfast, rapid dry, transparent screen processing colour for use in the production of traffic control signs using 3M™ Diamond Grade™ and 3M™ High Intensity Grade Reflective Sheeting as a base.
Process Colors Series 880I, 880N and 990 have been developed to provide maximum durability,
color-fastness and adhesion to reflective sheeting when used in the processing of traffic control signs. These process colors were developed and designed as matched components for specific grades of  3M sheeting.
Series 990 process colors have been formulated for use on 3M™ Engineer Grade Reflective Sheeting Series 3200. Thinner T11A Process Colour.
Series 880 process colors have been formulated for use on all 3M™Prismatic Reflective Sheeting for durable traffic signs. Thinner 711N Process Colour.
3M™ Engineer Grade Prismatic Reflective Sheeting Series 3430
3M™ High Intensity Prismatic Reflective Sheeting Series 3930
3M™ Diamond Grade™ VIP Reflective Sheeting Series 3990
3M™ Diamond Grade™DG3Reflective Sheeting Series 4000